A reader sent a mail to me upon reading my New Blogs of BN Politicians entry. I was introduced to another site by another BN politician.



The person is no other than the Leader of Malaysian Chinese Association (MCA) - Barisan Nasional (BN), Dato' Seri Ong Ka Ting. The address to his site is http://www.ongkating.net/ .

The banner on his site displayed "Copyright 2006 Ong Ka Ting". With that, I will presume albeit inconclusively that the page was launched as far back as year 2006.

There are a few things I would like to comment.

1) Language : The blog is written only in Chinese. Why can't it be written in Bahasa Melayu, English or a combination of 2 to 3 languages? DAP's Teresa Kok does that beautifully in her blog http://www.teresakok.com/ . From what I gather, Bahasa Melayu is our national language. Not all Malaysians are Chinese educated. Not all Chinese are Chinese-educated as well. In fact, mostly aren't. How are they supposed to navigate the page and decipher its content ?

2) Layout : Is there any layout which mirrors blogging functions of http://www.wordpress.com/ or http://www.blogger.com/ ? There is no strict definition on what kind of sites are considered blogs but in my opinion the item that makes it entirely different than Malaysiakini is the layout which scrolls all latest post on top of the page. There should also be a function that allows users/visitors comments. Does it actually exist on that page? Otherwise, in my own standards, I shall regard that as a normal homepage.

3) Content : Does it highlight issues according to blog posts/entries ? DAP's Lim Kit Siang , PAS' Husam Musa have continual posts on what is happening in Parliament, main public concerns, his opinions or suggestions and solutions or publications of letters from common citizens. DAP's Lim Kit Siang is so succesful and influential that netizens sometimes call him by his internet nickname Uncle Kit. PAS' Husam Musa even feature other interesting blogs. Most west coast citizens did not really know him until his efforts in his own blog.

4) Interaction : Did Ong Ka Ting use his page to clarify issues ? Did he write to Malaysiakini like his colleague Lee Hwa Beng a.k.a. seasoned MCA blogger http://hwabeng.org.my/ ? Did he response to visitors like Tony Pua in his "Philosophy Politics Economy" http://tonypua.blogspot.com/ . Does Ong Ka Ting link up with his supporters like Anwar Ibrahim in his http://www.anwaribrahimblog.com/ ? Anwar can be linked up using Friendster, myspace and facebook.




I am sorry but I really can't see these items being prominently featured in Ong Ka Ting's site. Perhaps, it has something to do with my limited language skills



Meanwhile, Dr. Chua Soi Lek had set up his own in http://drchua9.blogspot.com/ . Now, this is what I consider a "real" blog.

However, the Best Malaysian Politician Blog for me still goes to DAP Uncle Kit's "Lim Kit Siang for Malaysia" - http://blog.limkitsiang.com/ .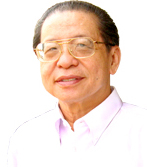 Such is my expectation for an important leader of a political party. Uncle Kit's blog is the benchmark.

A question to the reader who mailed me : If Ong Ka Ting's page was established prior to 2008, can you tell me why hasn't his page made any significance on the net?